By FELIX OLOYEDE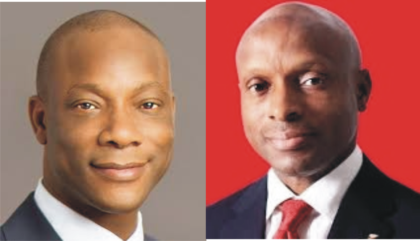 The prospect of better returns for investors at the end of the year was further reinforced by the financial performance of Zenith Bank and Guarantee Trust Bank (GTBank) in the third quarter of 2017, despite the challenging operating environment.
Zenith Bank posts 35% growth in PAT
A review of the financial position of Zenith Bank in Q3 2017 result released on Thursday, showed the lender recorded 35.49 per cent appreciation in its post-tax profit to N129.24 billion compared N95.39 billion in the corresponding period last year, despite the fact that the country's economy just rebounded after wallowing in recession for over a year.
Significant growth in interest and similar income, fees and commission income and trading income catalyzed gross earnings to increase by 39.68 per cent to N531.27 billion from N380.35 billion in September 2016. While the 26.64 per cent rise in interest and similar income to N361.79 billion is attributed majorly to earnings from treasury bills, which was up 125.79 per cent during this period.
Growth in current account maintenance and fees on electronic products by 109.39 per cent and 172.67 per cent respectively caused fees and commission income to climb 53.45 per cent to N71.02 billion in Q3 2017. Income from trading activities grew by a whopping 398.53 per cent to N81.81billion as a result of foreign exchange trading and treasury bills income increasing 144.38 per cent and 973.73 per cent respectively.
Unlike GTBank, low economic activities in the country worsened the Zenith Bank's non-performing loans situation, causing impairment provision to jump 115 per cent to N47.1 billion from N21.9 billion in the comparable period in 2016.
Interest and similar expenses were up 67.23 per cent to N160.30 billion in Q3 2017, while operating cost increased 29.91 per cent on the back of higher travelling and training and development expenses, which were rose 61.01 per cent and 177.48 percent respectively.
And like many other lenders in the country, which chose to scale down their risk appetite for risk assets as part of efforts to tackle rising NPLs, Zenith Bank loans and advances tailspin -11.11 per cent to N2.16 trillion (Q3 2016: N2.43 trillion) as its total assets rose 10.37 per cent to N5.13 trillion.
However, the lender's customers' deposits swelled 13.75 per cent to N3.06 trillion (Q3 2016: N2.69 trillion) influenced largely by savings and demand deposits, which grew 20.45 per cent and13.56 per cent respectively. The bank's total liabilities also rose 10.24 per cent to N4.36 trillion.
Zenith Bank's earnings per share rose by 35.64 per cent better at N4.11 in Q3 2017 than the N3.03 in Q3 2016.
GTBank Post-tax profit rises 7%
Nigeria's most capitalized commercial lender, Guarantee Trust Bank (GTBank) Plc reported a single digit upswing in its profit-after-tax in third quarter 2017 financial result, buoyed by improved interest income and investment in securities.
The bank financial statement released on Wednesday showed that its PAT climbed 7.26 per cent to N125.58 billion from N117.08 billion in the reversed period in 2016.
GTBank interest income was up 36.48 per cent to N248.27 billion, influenced by 76.59 per cent growth in revenue from loans and advances to customers, though income from loans and advances to banks dropped -39.61 per cent during this period.
Improved earnings from treasury bills and foreign exchange also helped revenue from trading activities to grow significantly by 229.78 per cent to N9.94 billion from N3.01 billion in Q 3 last year.
The lender's performance was hampered by -21.29 per cent in its fees and commission income to N39.68 billion against N50.41 billion in Q3 2016, attributable largely to a whopping -60.58 per cent decline in earnings from E-business.
GTBank made significant progress in cutting down its impairment provision, reducing it -85.36 per cent to N8.36 billion (Q3 2016: N57.08 billion).
Rising non-performing loans has been a major challenge in Nigeria's banking industry as it has gone above the regulatory five per cent threshold when the country's economy entered into recession in Q1 2016, following significant dip in crude oil prices.
The International Monetary Fund (IMF) had recently warned Nigeria over spiking NPLs in the financial sector.
Interest expense and personnel costs were up 19.41 per cent and 13.12 per cent respectively in Q3 2017, but expectedly, fees and commission expenses reduced -25.31 per cent during this period.
The Bank closed the third quarter ended September 2017 with Total Assets of ₦3.213trillion and Shareholders' Funds of ₦581.91billion.
The Bank's loan book contracted by 10 per cent from ₦1.590trillion recorded in December 2016 to ₦1.428 trillion in September 2017 due to conscious effort to de-risk the balance sheet and unwinding (pay-down) of trade obligations.
In terms of asset quality, the Bank's non-performing loans remained low at 3.93 per cent with adequate Coverage ratio of 212.7 per cent. Cost of risk moderated to 0.53 per cent from 3.66 per cent of comparative period of September 2016.  On the backdrop of this result, Post-Tax Return on Equity (ROE) and Post-Tax Return on Assets (ROA) stood at 30.81 per cent and 5.29 per cent respectively.
GTBank's earnings per share rose 7.25 per better to N4.44 compared to N4.14 in Q3 2016.
Commenting on the Bank's financial results, Mr. Segun Agbaje, the Managing Director/CEO said that, "Given the progress we made in the first half of the year, we came into the second half with the objective of remaining focused on our core strategy of serving the full value chain of our customers' needs whilst maintaining high standards of customer service.
He further stated, "As the Bank continues to drive innovation around mobile technology, we will continue to enhance our digital channels in order to make it easy for our customers to use and access our products and services, whilst positioning our Bank as a platform for enriching lives that provides customers with benefits beyond banking."