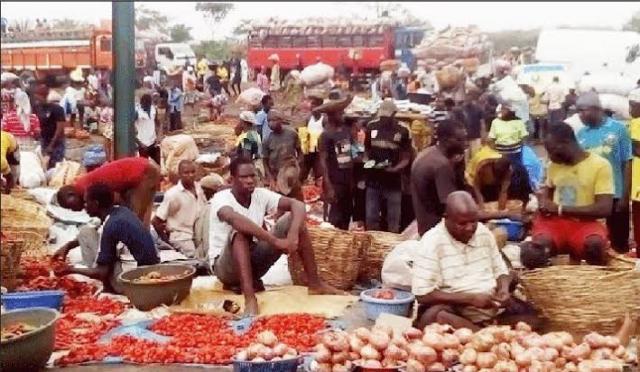 By Okey Onyenweaku
After haggling over the price of a paint of honey beans which cost has jumped from N1,200 last year to N3,200 as at last week, tears trickled down Mama Sikirat's eyes as she stood still, gazed steadily at the basin of beans and other food stuff at the shop. She put her hands on her waist, paced forward and back ward in confusion. It was a whooping spike of over 166 percent.
Distraught, she murmured the names of her three children as though asking 'what will my children eat', shook her head in consternation and loss of hope and left. The current price of the item Mama Sikirat wanted to buy was clearly out of her reach.
This is the extent of pain and suffering which the current high level of inflation has caused Nigerians. Food prices have jumped over 100 per cent in the last six years.
House wives, mothers, and food vendors have not stopped complaining about their predicament in the market as prices of yams, rice, tomatoes, vegetables, garri, amala, fish, crayfish among other food items continue to rise daily, and beyond the reach of many low income earners.
This situation has pervaded every part of the country, creating hopelessness and despair. As prices of food stuff continue to gallop to unprecedented levels, many more are pushed into the poverty bracket. These are people who survive on $1 and below a day.
Experts say inflation as measured by the consumer price index reflects the annual percentage change in the cost to the average consumer of acquiring a basket of goods and services that may be fixed or changed at specified intervals, such as yearly.
The reality is that many income earners complain that they spend all that they earn on food and can hardly spare anything for savings or investment.
Recent statistics show that inflation has trended down from 18.17 per cent in March to 17.93 per cent in May and to 17.75 per cent in June 2021. Food inflation, according to the National Bureau of Statics (NBS) also came down to 21.83 per cent from 22.28 per cent within the same period.
Food inflation had risen to now stand at 22.28 per cent, compared with 22.72 per cent in April 2021. Since 2015, the inflationary trend has refused to abate. Inflation which stood at 8.2 per cent as at January 2015 has jumped by 116 per cent to 17.75 per cent in July 2021. However, the ordinary man on the street appear to doubt the official figures above given the high prices of food, transport, housing and other items and the fact that more Nigerians drop into the poverty status by the day.
Inflationary pressures have continued to plaque the country since government shutdown of Nigeria's porous land borders in October 2019 in order to encourage mass production of food as well as curb smuggling.
It is also clear that insecurity resulting in attacks on farms, forex scarcity and naira devaluation have contributed to significant dropin local food production against higher demand causing food prices to steadily rise.
Incomes and earnings have been eroded given the jump in prices of food in Nigeria. An income of N100,000 in 2015 when inflation stood between 8 and 9 per cent has been reduced to a real value of about 50 per cent today or less given the rise of inflation by about 116 percent. The Minimum wage of N30,000 which many States have not even been able to pay to civil servants is almost completely eroded.
Consequently, the masses are now in dire situation as they are becoming further impoverished by the day. The halving of the value of peoples earnings today can only be true if the statistics from NBS is any thing to go by. However, some analysts believe that those statistics are mere official figures that may not be relied upon to assess the current realities.
Since the second term as Governor of the Central Bank of Nigeria (CBN), Mr. Godwin Emefiele had declared that monetary policy measures embarked upon by the CBN "in the next five years would be geared towards containing inflationary pressures and supporting improved productivity in the agricultural and manufacturing sectors of the economy."
To achieve its single digit rate target, the CBN had planned to, among other things, work with other stakeholders in the economy to bring down the cost of food items, which it said, has considerable weight in the Consumer Price Index (CPI) basket.
However, food inflation continued to climb with Nigerian farmers unable to keep up with domestic demand. The government partially reopened the borders in December 2020, but trade flows are yet to return to normal.
Managing Director, Highcap Securities, Mr.DavidAdonri who told Business Hallmark that the economy has very little to offer the common man. ''You can see the reflection in the macro-economic indicators. Look at the unemployment rate at 33 per cent officially, but unofficially it might be up to about 60 per cent because those official figures are just to dress the window but in reality we know what is happening. Look at inflation which is officially 17.33 per cent, but in reality it may be up to 50 per cent,"
Adonri who noted that the micro-indicators have affected the GDP and weak growth of the economy which is captured at 0.51 per cent increase constitutes 'motion without movement. ''It is an inflationary growth'', he explained.
There is some consensus that aside from eroding purchasing power or how much of goods can be purchased with the currency, inflation also erodes the value of cash and encourages consumers to spend and stock up on items that are slower to lose value.
Earlier in the year 2021, Chairman of the Presidential Economic Advisory Council, Dr. Doyin Salami had warned of an impending food crisis sooner than later.
He said this during a discussion on the national economic outlook for 2021 organised by the Chartered Institute of Bankers of Nigeria. Elaborating, Salami explained that the country spent a whopping N1.85 trillion to import food for nine months during the closure of its land borders, coupled with the declining output of agricultural produce by farmers who hardly go to their farms because of insecurity.
Inflation, will "certainly remain elevated over the medium term, and may actually rise in 2021," John Ashbourne, emerging markets economist at Fitch Solutions in London, reportedly said. "Until the government abandons its efforts to cut down on food imports, we are unlikely to see a real change."
"The average Nigerian household spends around 57% of its income on food, and the figure is substantially higher for the 83 million Nigerians who live below the poverty line", says William Attwell, senior country risk analyst at Fitch Solutions in London.
Analysts believe it is difficult to control inflation in circumstances where all economies have been expansive given the disruptions caused by Covid-19 which has refused to abate.
According to them,already Covid-19 and insecurity have been blamed for the continued weakness of the economy. In fact, these two conspired to further weaken the economy before now and this situation may continue should the economic managers not apply far reaching creativity.
Last year, pressures from the outbreak of Covid -19 hampered business activities and setback the economy. Fast spreading insecurity is impeding not only investments but also business activities. The fearful resultant effect of these are still awaited as the new Covid-19 Delta Variant resurges in Nigeria and other places.
Critically, recent statistics reveal that the rate of unemployment, the second highest in the world is 40%. At the same time, the underemployment rate stood at 22%.
At the same time, Diaspora remittances inflow fell 27 per cent year on year (YoY) to $17.2billion in 2020 from $23.55billion.
Also remarkable is the country's heavy debt burden at N33.11trillion ($82bn)and expected to hit N38 trillion at the end of 2021 and still growing; of the budget of N13.08trillionfor 2021, budget deficit stood at N5.6trillion as over 90 per cent of revenues is used to service debt. More worrisome is that the country has set new borrowing limit from 25 per cent of GDP to 40 per cent of the GDP. This was contained in the Medium Term Debt Strategy. Recently too, the Senate gave new approvals to the Federal Government to borrow $8.33bn and €490m from external sources.
The major revenue earner for the country, crude oil, which has hit $70 pbd and above presently still fluctuates.
Insecurity has not only hobbled agriculture, many parts of Northern Nigeria have been taken over by bandits such that not much business activities can subsist. The World Bank just noted that Nigeria's revenue to GDP ratio hovered between five and six per cent last year and remains the lowest in the world. These days almost every everybody is aware that Nigeria is the poverty capital of the world recently over taking India with over 100 million people. The Naira which sold at N220/$ in June 15, 2015 has depreciated by about 100 per cent to N503/$ as at July 26, 2021. These are definitely the characteristics of an unproductive economy and fighting inflation will remain a tall order.
These are indeed very challenging times for the average Nigerian.