FELIX OLOYEDE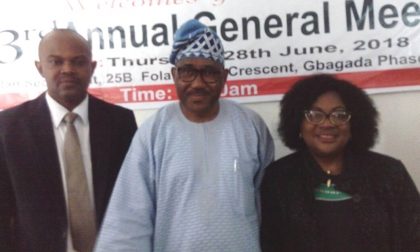 Olutoyin Okeowo, Managing Director/CEO Metropolitan Motors Limited has elected the new chairman of  the Equipment Leasing Association of Nigeria (ELAN) board of directors.
The new board of ELAN was inaugurated at its recently held 23rd Annual General Meeting (AGM) in Lagos.
Major highlights of the meeting include the presentation of the 2017 Annual report and accounts, providing an overview of the key activities and initiatives conducted by the Association in 2017 and the election of a new Board of Directors.
Other members of the Board include Elizabeth Ehigiamusoe (Mrs), Managing Director/CEO Micro Investment Support Service Limited (Vice Chairman); Christian Chigbundu, Managing Director/CEO Coscharis Mobility Limited; Bode Dinyo, Managing Director/CEO Mint Seal Services Limited. Others are Tunde Netufo, Managing Director/CEO Frontline Trust Limited; Andrew Otike-Odibi, Managing Director/CEO C&I Leasing Plc; Adegboyega Adegun, General Manager Sterling Bank Plc and Alfred Okugbeni, Managing Director/CEO Nigerian Sinotrucks Limited.
Olutoyin Okeowo, was a member of the immediate past Board. He is expected to bring to bear, his wealth of experience in the leasing industry, to reposition the Association that would support the promotion of leasing business in Nigeria.
In his acceptance remarks, Okeowo stated that "It is important for the Association to continue to pursue activities that would lead to the attainment of the Association's primary objective of promoting the business of leasing in Nigeria."
He noted that efforts will be directed towards implementation of the Equipment Leasing Act (ELA) 2015, especially the inauguration and kick off of the Equipment Leasing registration Authority, which would further facilitate the contribution of leasing to national economic development.
He also promised to promote the visibility and relevance of leasing to the Nigerian economy.
The new Chairman appreciated the immediate past Chairman Chuka Onwuchekwa and his team for their unwavering commitment while soliciting the support of the members of the Association towards building a virile leasing industry.